Steve Earle channels ghosts of his past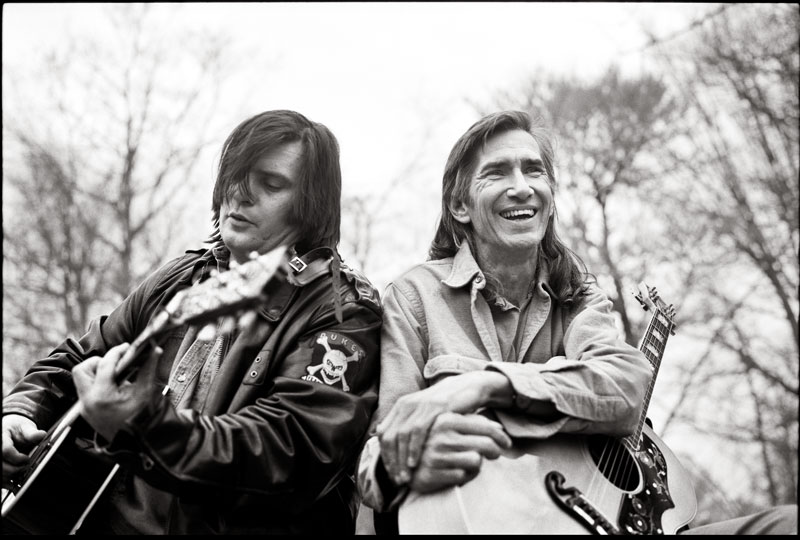 At 54, folk musician and "hardcore troubadour" Steve Earle is just two years older than his mentor, teacher, and 70s counterculture icon Townes Van Zandt was when he died.
To a sold-out audience in Sheridan, Wyo., on Saturday, Earle recalled tales of his past, conjuring up the image of Van Zandt through tales of their experiences, which began in the 1970s. Earle performed original music as well as covers of Van Zandt's songs, which are featured on Earle's latest album, Townes.
Earle's musical path took quite a different course from Van Zandt's, who died from health issues related to substance abuse. Though Earle spent many years living hard with Van Zandt—even selling his guitar collection for heroin—Earle cleaned up in jail and launched a noticeably more successful musical career following his release.
"You know you're in trouble when Townes shows up to give you a temperance lecture," Earle said to Saturday's audience.
He described a scene when he returned home after a six-day bender. Earle, who had pawned most of his possessions for heroin, had one guitar left, and Townes was sitting on his couch playing it.
"You look like shit," Townes said.
"I know," Earle replied.
"Your arms really look like shit."
"I know."
"You got clean needles?"
"Yeah."
"Every time?"
"Yeah."
"Okay. Let me play you this song I just wrote."

The song was "Marie." Townes includes Earle's stark rendition of "Marie," retelling the despondent tale of hard living, low life and the overdose of a pregnant Marie.
"I laid them in the sun where somebody'd find them / Caught a Chesapeake on the fly / Marie will know I'm headed south / So's to meet me by and by."
Earle met Van Zandt in 1972, but admitted to "stalking him for a couple years."
"Believe it or not, I was shy in those days," Earle said, recalling a performance at Houston's Old Quarter where Van Zandt was in the front row heckling the young musician and calling for Earle to play "Wabash Cannonball."
"He was literally right there," Earle said, pointing an audience member in front of him. Earle didn't know the song Van Zandt requested, so he played "Mr. Mudd and Mr. Gold," a fast-paced bluesy song Earle has since recorded on Townes as a duet with his son, musician Justin Townes Earle (named after Van Zandt).
Earle's domestic life, at times tumultuous, has quieted down as well, and includes a relatively stable marriage to the southern singer/songwriter Allison Moorer, Earle's sixth wife. Moorer tours with Earle and opened Saturday's concert.
Moorer, red hair curling around her soft face, opened the concert with "A Soft Place to Fall," a delicate melody with captivating vocals, her voice echoing through the art deco theater. Her short set included a cover of Patti Smith's "Dancing Barefoot," and Moorer originals, including "Believe You Me," which Moorer set up by quoting the southern fiction writer, Flannery O'Connor: "Faith is knowing something is, whether or not you believe it's true."
Moorer, a tremendous singer, has an enduring quality, and her relationship with Earle represents redemption for the former drug addicted womanizer.
As for Earle, he's waist-deep in the Ruby River in Southwest, Mont., fishing before his Bozeman show on Wednesday. He mentioned to Saturday's audience that he'd never fished Wyoming, only "because I refuse to fish downstream from Dick Cheney. It's not personal; it's an environmental thing."
Earle performs Tuesday at the Emerson Center For The Arts & Culture in Bozeman, where he performed in July 2008, and Wednesday at Missoula's University Theater. Tickets for the Bozeman performance, costing $35, are available at Cactus Records, Borders, online at Ticketweb.com and at the door. Tickets for Earle's Missoula performance are available at all Griz Tix outlets.